By Stacey Dresner
CENTRAL MASS. – Five years ago, Rabbi Shmuel Fogelman decided he should build a sukkah on the grounds of the University of Massachusetts Medical School in Worcester.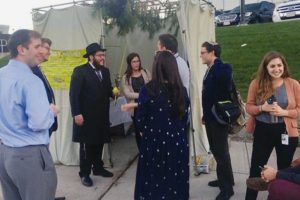 "I met UMass first-year resident William Bernard Reid-Varley and he told me there was no sukkah there," Fogelman said. "I had no idea about UMass. I only knew of it from visiting it when my grandfather was a patient there. I went to the information desk and asked, 'Who can give me permission to put up a sukkah?' It was actually two days before Sukkos… and two days before Sukkos is not long," he noted.
But Rabbi Fogelman sat in the front hall, worked the phones and in a couple of hours got the green light from then-president Patrick Muldoon's office to build the sukkah.
That was a turning point for the rabbi and his future wife, Sarah, who in 2017 became the shluchim, or emissaries, from the Chabad-Lubavitch movement to the Jewish community of Shrewsbury and the UMass Medical School.
"It started from that Sukkos, and when I got married to my Sarah, we decided we were going to move there and live there full-time. Because there is nothing like living somewhere to know a place – that really changes the whole ballgame."
Today, Rabbi Shmuel or "Shmulik" – as everyone calls him – and Sarah, now the parents of one-year-old daughter Raizel, run Chabad on Campus in their apartment right next door to the medical school. "We can see it out our window," he said.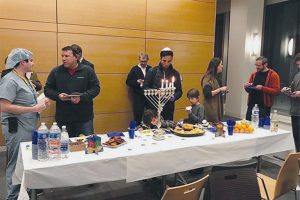 Chabad of Shrewsbury and UMass Medical School was founded with a grant from George Rohr and the Rohr Family Foundation, which is devoted to funding Chabad houses in college campuses across North America. Shmulik said that Rohr, now joining with local donors, big and small, continues to generously fund Chabad at UMass in providing programming for local Jews.
"We basically want to provide as much Judaism as possible for everyone in that area, everyone involved in UMass Medical School and in Shrewsbury," said Smulik, the son of Rabbi Mendel and Rebbitzen Chani Fogelman, directors of Central Mass Chabad in Worcester; and grandson of Rabbi Hershel Fogelman, z"l, who was sent to Worcester by the Lubavitcher Rebbe in 1946 to start Chabad's Yeshiva Achei Tmimim.
On Monday, March 2, the Fogelmans' work to enhance Judaism grew even more when they were able to facilitate the sale of kosher food in UMMS's cafeteria for the
first time.
Chani's Kosher-To-Go meals – homemade by Shmulik's own mother Chani Fogelman – can now be found daily in a refrigerated display case in the Albert Sherman Student Center's Cafeteria.
For the past three years Central Mass Chabad has been providing carryout and catering under the name Chani's Kosher Take-Out at the Newton Avenue Chabad House. Chani's Kosher Takeout was established by Rabbi Mendel and Chani Fogelman "to encourage kosher in a very tasty way," Rabbi Mendel Fogelman said. "It has reintroduced many people to the great taste of gourmet kosher food. It's popularity
is citywide." All proceeds go towards funding JFam and scholarships for Camp Gan Israel.
Every Thursday from 5-8 p.m., the shul's social hall is the location of a bounty of kosher culinary delights. Displayed on long tables and prepared by Mrs. Fogelman and her kitchen helpers, the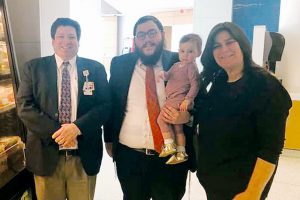 offerings for sale run the gamut, from roasted brisket and turkey meats on carving boards, pans filled with fragrant meat and vegetable entrees, kugels, barekas, soups, salads and challah – even kosher Chinese items like lo mein and sesame chicken.
"It's a whole room filled with any kind of Jewish food you can imagine," Sarah marveled.
The food is available for carryout or to be eaten with family and friends at tables in the shul's social hall. 
And now it is available at the UMass Medical School.
The kosher food display in the school's cafeteria carries Chani's deli sandwiches, falafel, matzoh ball soup, salads, and more, with a new "Chani's Kosher-To-Go" label. Soups and other items can be heated up in a kosher-only microwave nearby.
The kosher-to-go went over so well with the UMass crowd that it had to be restocked just two days later. 
"People are loving it," Sarah said. "The falafel went right away; the meat sandwiches and the schnitzel went pretty quickly. The soups are mostly gone."
Ari Salinger, 30, a Chicago native and third-year post-doctoral research fellow at UMass, said that before the kosher to-go, the only food he could eat from the med school cafeteria were small Sabra hummus cups or maybe some chips and soda.  
"My wife and I keep kosher. We live out in Newton so it's not that difficult out there, but out here in Worcester it is more difficult to come by," Salinger said. 
During its first week in operation, Salinger, whose busy schedule takes him back and forth grabbed some matzo ball soup and kugel to eat on the go. "It was dynamite. I told the rabbi I was going to go back and get matzo ball soup to-go for Shabbos."
He went back later to get more soup to take home for Shabbos dinner.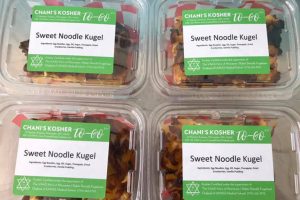 The first time Salinger met Rabbi Fogelman was at a vigil held at the medical center after the shooting at the Tree of Life Synagogue in Pittsburgh.
"Rabbi Fogelman was one of the people at the vigil. It was nice seeing someone who is recognizable [as Jewish] and who you can approach," Salinger said. "I just went up and introduced myself and asked if he was from the area and he said he was the Chabad rabbi at the school. I said, 'There's a Chabad rabbi at the school? Cool!'"
Salinger works at both the UMass campus in Worcester and the Boston campus, and though he hasn't much time, he tries to go to Rabbi Fogelman's Wednesday classes when he can.
"It's so nice to have people nearby you can talk to and a community to be a part of," Salinger said. "These are the things you grow up with so to see them on a daily basis and know that they are around makes you feel like you are in a more welcoming place, a more inclusive place. It's a powerful thing to have what you are be normalized."
Finding a way to provide meals for kosher-keeping Jews at the medical school is just one of the ways the Fogelmans serve the UMass community.
The young couple hosts 15 to 25 people in their apartment during their weekly Friday night Shabbat dinners; at times they have welcomed 30. "Everyone's welcome there. It's always a good time; always a blast," Shmulik said. 
"It's a nice mix of people from Shrewsbury and UMass students and residents," Sarah added. "It's a nice community."
Michelle Parris, a second-year medical student at UMMS, is a regular guest at the Fogelmans' Shabbat dinners.
"I go maybe every other week and it's really nice. It's a cool way to meet people; I have met people from the school, like residents and doctors that I wouldn't have met otherwise. And also just people in the [Shrewsbury Jewish] community," Parris said. "It's a really nice change of scenery from my medical school activities. I see the same people every day at school and I spend most of my time studying. I think, especially the Shabbat dinners are a nice way to just take time to do something different, relax and meet new people."
For the last two years the Fogelmans have also offered High Holiday services, the first year in a small room in UMass, and last year in a "makeshift shul" in an event space in their apartment building.
Parris attended both Rosh Hashana and Yom Kippur services at the Fogelmans' last year.
"It was nice to have something at school that I could be a part of," said Parris, who this semester is also taking the monthly Rosh Chodesh class for Jewish women that Sarah Fogelman runs.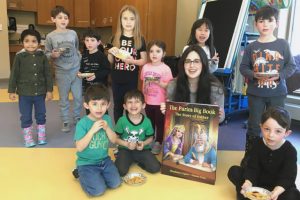 Sarah also leads family holiday programming at the Shrewsbury Public Library. On March 5, she did a Purim program for children and parents in preparation for last week's holiday. Sarah read a Purim storybook to the children; then they sang Purim songs. After that they all rolled up their sleeves and made hamantashen, followed by a watercolor craft project. All in one hour.
"It's about an hour each time I do it," she said. "I do it for Chanukah, I do it for Rosh Hashana – all the Jewish holidays."
Medical students and doctors also are interested in Jewish learning, Shmulik said. He offers a Torah class every Wednesday in the UMass student center.
"Medical students and residents are busy people. We have to go to them," he explained. "They are busy, but they are also serious and they want to learn about their Yiddishkeit in a serious way."
For students who can't make it to the Wednesday classes because of their hectic schedules, he offers one-on-one learning. 
"The Lubavitcher Rebbe compared each Jew to a diamond, would you go get one Diamond? I would," Rabbi Fogelman said.
On Fridays, he does tefillin visits.
"I go to all kinds of doctors offices at UMass and the medical school and the research offices, from top to bottom," he said. "There are Jewish people in every department, from the administration, to doctors, to support staff, to IT, to everything. There's Jews in every field at UMass."
And of course he makes pastoral visits to Jewish patients at the medical center.
"It's talking to people. I don't call it counseling – it's support for people dealing with personal things. And certain patients have situations where they need a rabbi to come in and guide things according to Jewish law," he explained. "Sometimes, unfortunately, people are passing away and they need help with all the life-saving and life-support questions that come along. And so it's very important for people to have somebody who knows the players there and to make things happen according to Jewish law." 
Even before Chani's Kosher-To-Go came to the UMass cafeteria, Shmulik and Sarah were coming to the aid of Jewish UMass patients who keep kosher.
The medical school's renowned Gene Therapy Center is working hard to find treatments and cures for genetic diseases like Tay Sachs and Canavan disease, both prevalent in Ashkenazi Jews.  
"The Gene Therapy Center is on the cutting edge of tying to cure genetic diseases," Rabbi Fogelman said. "There are Jewish patients who are coming in for treatment from New York and other areas. So if they are coming in for two or three days we take care of them and their families. My wife makes them food and packs them lunches and dinners. We give them some fresh baked goods. We help them find their appointments. We've had people stay in our apartment sometimes, actually. Some come for Shabbos."
The Fogelmans hope to expand on all that they can offer these families in need by building a Chabad Center with "home-suites" for patients and their families to stay at when they are in town for treatments.
"We want to give them a place to stay where they will be taken care of and won't have to worry about anything besides taking care of their kids or family. A place to stay, a place to eat – almost like a hotel suite, free of charge," Rabbi Fogelman said. "We have tried to do it in our apartment, but it's not big enough to host too many."
They have started a capital campaign toward this new center, and have received "some nice donations to start with," Rabbi Fogelman said. "Basically we are trying to build toward it. We want to put it right over the bridge in Shrewsbury, within a half a mile of the hospital."
Rabbi Fogelman said that they are looking for land and hope to begin work on the center – which will include their shul – within a year.
But they won't stop there. 
"We hope to grow and expand our programming and meet more people," Sarah said. "We want to offer more and more to make closer connections and enhance Jewish life in this area."
Main Photo: Rabbi Shmuel and Sarah Fogelman
Original Article: http://www.wmassjewishledger.com/2020/03/chabad-on-campus-enhancing-jewish-life-at-umass-medical-school/